» Meet Our Trainers
» BOBBY

Bobby is a lifelong fitness enthusiast. He played many sports as a child and found exercise as a means of improving athletic performance and increasing self-confidence. Bobby is a passionate Brazilian Jiu Jitsu practitioner and trains regularly to this day. And he genuinely enjoys exercise, as well as outdoor activities such as golf and hiking.
Although Bobby's relationship with athletics and exercise brought him a lot of joy, it was also a burden. Between martial arts training, lifting weights and running, Bobby would sometimes exert himself for 2-3 hours in a given day. Not only did this lead to a very hectic schedule, but he often found himself fatigued and injured. Bobby felt conflicted; believing he had to spend this much time on exercise and fitness but understood it was unsustainable.
Bobby's revelation came when he was introduced to the principles of high intensity strength training. Instead of spending lots of time on exercise, he began experimenting with shorter, less frequent, but more calculated workouts. Between this, and making a few dietary adjustments, Bobby saw a major change. His strength and energy levels improved, he found it much easier to maintain low body fat levels and he found much more time in his schedule. Bobby was fascinated by what he experienced and knew his life had changed for the better. And he knew that if this approach to fitness worked for him, it would work for others as well.
Bobby redirected all of the time he used to spend on over-exercising toward his education. He went on to receive certifications as a personal trainer, sports nutrition specialist and exercise therapy specialist. And, to this day, both for continuing education and for pleasure, Bobby spends hours each week reading about exercise and nutrition related topics.
---
» WILL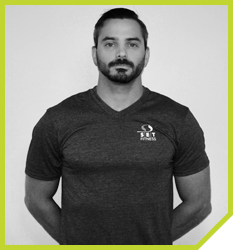 Born and raised in Westchester, Will Diano has played sports and enjoyed exercise throughout his entire life. Will is a NYS certified Physical Education teacher, as well as the head coach for a local high school. This role has awarded him the ability to implement strength and conditioning regimens to athletes of various sports.
Throughout his education, Will completed many classes focused on anatomy & physiology of the human body. It was during his graduate studies that Will developed a deep interest in exercise science. Will's expertise and fascination in exercise science made him a perfect fit at SET Fitness.
Inspired by the SET Fitness exercise plan, Will has not only implemented HIT into his own exercise regime, but has used it to help the athletes he coaches. Will's passion for exercise and his commitment to the HIT method allows him to implement high quality workouts for every one of his clients.
---
» CHRIS

Growing up in the suburbs of Northern Westchester, Chris always enjoyed being active. Chris developed a passion for baseball at an early age and played competitively throughout high school and into college. Chris's love of sports inspired a deeply routed interest in fitness.
A routine check-up at his doctor that yielded a diagnosis of familial high cholesterol was the catalyst that caused Chris to fully immerse himself into the world of fitness and nutrition. He became dedicated to learning the mechanisms behind exercise and nutrition as it related to a better, healthier lifestyle. From there, fitness became less of a hobby and more of a passion, leading him to pursue an accreditation from the National Federation of Personal Trainers.
Up until this point, Chris was spending hours each week running and swimming. Eventually it became too much to fit into his schedule and it began to interfere with his personal life. Chris's life was forever changed for the better when he discovered High Intensity Training. Chris was inspired by books such as Body By Science, by Dr. Doug McGuff and Congruent Exercise, by Bill DeSimone. He then went on to further his education by becoming accredited by HITUni (The High Intensity Training University.)
---